Kaz - Design. Brand. Web.
We are a creative design, brand, and web agency based in Cambridge, NZ.
Innovative website and graphic design studio, located in the heart of Cambridge.
We're the go-to-creatives for businesses in Cambridge, the Waikato, and throughout New Zealand. We do design, brand, websites, social media, print media, and virtually anything that you need to be designed.
We are proud to be Rocketspark's fastest growing website designers and their first Platinum Partner.
At Kaz you deal directly with your designer!
That's our point of difference! There are no middlemen here, so nothing gets lost in translation. Work face-to-face with a graphic designer so you get exactly what you want (but even more than you imagined).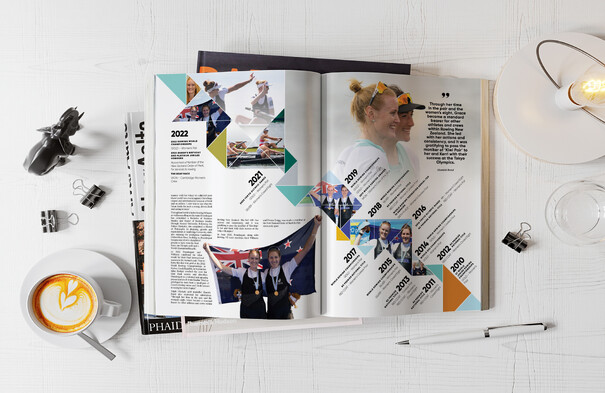 MORE THAN YOU BARGAINED FOR.
Our clients get more than a look. That's because we're not just graphic designers; we're marketing, branding and communications gurus. Your success really matters to us, so we go above and beyond. When it comes to our clients, nothing is too much trouble.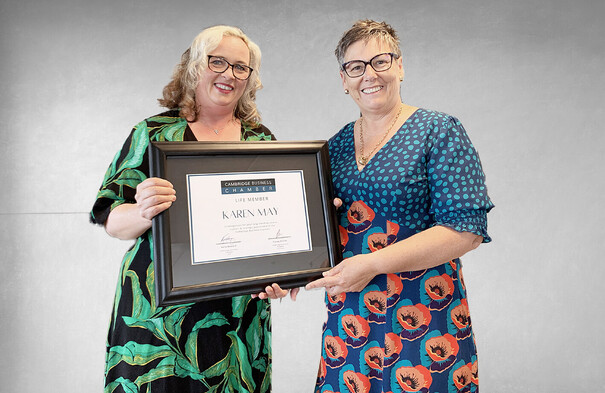 NETWORK. GET MORE WORK.
At Kaz - Design. Brand. Web. we believe business is about relationships. We help nurture businesses by connecting clients with vibrant professional networks.
Commitment to our community
We're not just about marketing & design; we're driven by a deep commitment to making a positive impact. We're passionate about supporting inspiring causes because we believe in the power of people, relationships, and community. That's why we proudly back many initiatives – it's a privilege to be part of the change they bring.
"Karen's passionate about local business and people, so much so, that she was awarded a Queen's Service Medal in 2017 in recognition of her commitment to the community."
"A design package we are thrilled with!"
Kaz Design. Brand. Web met with us and listened to our school story. They then turned that into some great designs. Kaz Design. Brand. Web responded to our feedback and willingly made small tweaks, resulting in a design package that we are thrilled with.
Sharon Griffiths, Principal - Te Awamutu Primary School
PROJECT: Te Awamutu Primary School Brand
"A great professional and talented local business."
The team at Kaz Design. Brand. Web helped me immensely with my own business start-up a year ago. Company logo design, business cards, and website were all designed and provided, and a wealth of start-up advice! A great professional and talented local design studio that I'd recommend to others.
Rob Camden, Owner - Maunga Designs Ltd
PROJECT: Maunga Designs Ltd Brand and Website
"Kaz brings our ideas to fruition."
Whenever we have an idea, we always use the Kaz team to bring it to life/fruition. They are an integral part of helping with all of our advertising campaigns, here and internationally.
Craig Fuller, International Student Director,
Cambridge High School
PROJECT: Promotional material for overseas campaigns
"The Kaz team are awesome to work with!"
They have the ability to understand what we are after, are very organised, responsive and have great standards!
Rob Dorey, Principal - BSP Advisory Group
PROJECT: Marketing Material for Franchise and Workshops
"Amazing service, quick turnaround, fantastic design."
We were so delighted with our display boards which were used as part of a key youth event! The whole process was made so easy by the team at Kaz. Kylie and Lisa provided amazing service, quick turnaround, fantastic design and a sustainable product! Thank you team!
Tania Jones - Waikato Wellbeing Project
PROJECT: Display boards for a youth event
"Accuracy in every aspect of graphic design."
Kaz – cutting-edge graphic designers are the absolute best at what they do. Accuracy in every aspect of design to your needs with a speedy turnaround at very affordable rates. Karen and her team are extremely professional and the nicest people to deal with! We recommend them to every business that has high expectations.
Jules Walker - Spik n' Span Kleeners
PROJECT: Marketing material
"Our experience with Kaz has been nothing short of incredible."
They went above and beyond what was expected. Prompt service, excellent communication and courteous work ethic were also great factors in making the project successful and enjoyable. Kaz comes highly recommended.
Cindy Jacobs - Breast Cancer Research Trust
PROJECT: breastcancerresearch.org.nz
"Lots of advice throughout the process."
Karen and Kylie were fantastic to work with on the build of our new website. The Kaz website design team gave us lots of advice throughout the process, and the finished product looks absolutely amazing!
Kathryn Downey - St Peter's Swimming Club
PROJECT: www.stpetersswimmingclub.co.nz
"Kaz's guidance and support has been so valuable."
We have dealt with the Kaz team on the rebranding of our business, including a new website, which seemed like a mammoth task for us at the start. However, we got there in the end with the perseverance and patience of Karen and Kylie. We worked through the various areas in stages. Their guidance and support have been so valuable, and we are very grateful to have been put in touch with them from another one of their satisfied clients. We are very happy with the final result, and look forward to continuing to use Kaz in the future! Thank you Kaz Team!!!
Janice Tarr - AJ's Mobile Powersport Mechanics
PROJECT: Website
"If there were more stars, I wouldn't hesitate to give them."
It really is a pleasure to give Kaz a 5-star review. We've used them for redesigning all our training materials and the quality of work has been consistently outstanding. We love what they've done for us. Not only is their work of exceptionally high quality, the Kaz team is patient and delightful to work with. You won't find a friendlier group of experts in the business. If there were more stars, I wouldn't hesitate to give them.
Brent Stewart, Director - Leadscape Learning
PROJECT: Training material for Leadscape Learning
"Proactive, fast, efficient."
We really enjoyed working with the Kaz team again this year. The advice and service that you provide to us is invaluable. Kylie has been such a star for us this year, always on hand for anything we need to do, proactive, fast, efficient and spot on with the product. Whilst you may see this as a standard that is required, for us, it was so welcome. When there is so much to do, to have you ease the pressure by taking care of the website, advertisements, signage, race bibs, certificates etc - it was so much appreciated.

Lisa Hodgson and Donna Warwick, Events Co-ordinators,
Waipa Fun Run
PROJECT: Waipa Fun Run collateral
"The team at Kaz are awesome to deal with."
The team at Kaz are awesome to deal with. The whole process was very easy and the results are even better than expected. Would recommend the team to everyone.

Jennifer Rouse,
Cambridge Homekills
PROJECT: Website
Does your business have social media?
Do you have or want Facebook and Instagram for your business but you're not sure how to implement them? Let Kaz help. We can set up both platforms, get you started and look after all your social media, or work alongside you showing you how to be in control.
Need a photographer for your website or design job?
We can organise photography or put you in touch with one of our talented photography partners.
Communication is the key to success – and we're good at it. Let's chat – give the Kaz team a call on 07 823 4932.
Upstairs, 60 Duke Street, Cambridge
PO Box 968, Cambridge 3460
CONTACT DETAILS
Phone: 07 823 4932
Email: hello@kaz.co.nz
Flag Design
Pull Up Banners Design
Marketing
Promotional Products
Clothing & merchandise
Poster Design
Animations
Word & PowerPoint templates
QR Code Design